Cycling has always been and remains everything to Čestmir Kalas. At the beginning of the 1990s, when the Tábor cycling team lacked financial support, he made a risky decision. Without any previous experience, he set up a factory to produce cycling clothing, from which some profits ensured the survival of the team. This year marks 30 years since Čestmír Kalaš began to build a company that has now over 200 employees and sells to more than 50 countries. We bring you a unique story to follow up on how one determined cyclist embarked on an uncertain business and managed to build his production into world-class cycling apparel that is recognized at the very top of the world peloton
Chapter 1
Racer and trainer
Čestmír Kalaš was born in České Budějovice Czechoslovakia in 1943 and first fell under the spell of cycling at the age of 15. As a youth he represented the Slavoj České Budějovice club. After graduating from high school, he chose not to go to college because he wanted to devote himself to cycling. At that time individual study plans for top athletes were not as common as they are today, so, he trained as an auto electrician. He then did his military service and represented the army club Dukla Český Krumlov, where he first wore the national jersey at races in Montenegro. After his military service he married and moved to Tábor. However, he still worked as an auto electrician in České Budějovice, over 50 km away. He commuted to the South Bohemian city for work by bicycle all year round, in all weathers, until he found another job in Tábor.
In the service of Dukla Český Krumlov on the Jindřichův Hradec circuit in 1964.
On the Tábor circuits for the Budvar team in 1965.
At that time there were two strong clubs in Tábor, with several promising young talents in their ranks. Kalaš noticed this and began to advise the younger athletes on how to train. Thus, he smoothly transitioned into the role of a coach and ended his active racing career at the age of 29. It didn't take long before he passed his coaching exams in Prague with another important coach Pavel Vršecký. Even though he quit racing and started coaching during his job, he certainly didn't hang up the bike. He joined the Masters movement that was founded at that time and went to the starts of the veterans' world cups.
"When I started racing at the Masters' World Cups, I was only finishing around the top ten. But even for that I had to be pretty damn pumped up!"
Kalaš (far left) was the first of the bunch to have a driver's license and drove his friends to the races in a borrowed Tatra truck.
Three friends from adolescence to retirement. The week before they entered basic military service in 1963. From left: Pavel Pavlicek, Čestmír Kalaš and Josef Novotný.
During his racing and coaching years, he was employed by the transport company ČSAD Tábor, which supported the local club ČSAD Tábor and provided them with a decommissioned bus for races. With his ambition, Kalaš gradually worked his way up to the Finance Department. Sometimes he worked late into the night to get his work done in time to pursue his passion of cycling.
"At work during the day, training in the afternoon, shower, dinner and then straight back to work. I had to work hard to get everything done."
The Tábor rookies that Kalaš led soon began to bring notable successes from foreign races, and the management of the transport company ČSAD Tábor decided that Kalaš should devote himself even more actively to coaching. So, they appointed him a full-time coach.
Kalaš with his young riders at the races in Upper Austria in the 1980s. From left: Ladislav Paleček, Jan Hájek, Pavel Kubec, Jaroslav Morava, Jan Kanov, Čestmír Kalaš, Jaroslav Pohan.
At that time, however, the team did not function as a top club and did not have sufficient financial resources for its operation. However, Kalaš was not going to accept the idea of the team disappearing and came up with the idea of everyone taking on temporary jobs. He called the riders together and in their spare time they took up a pick or shovel and earned the necessary money with their own labour. This was mostly demolition work in the centre of Tábor.
"We picked up tools and went to work to earn money for rims, tyres and other parts. The guys appreciated the components a lot more after they earned them themselves."
Demolition work ended after 1989 and the Tábor team once again found itself without the necessary support. At that time, Kalaš also became a national cyclo-cross coach thanks to his rich experience and was therefore able to travel with his charges to races abroad.
Popular Prague cyclocross races from Višňovka. Čestmír Kalaš in the role of a coach encouraging his ward Jiří Sosnovec.
It was in the autumn of 1990, when the Czechoslovak representatives, led by Kalaš, went to Switzerland to compete. There he was approached by Toni Maier whose father was a prominent promoter of Swiss cyclo-cross and therefore had ties to Czech cyclo-cross, and thus Kalaš. Toni invited Čestmír to lunch, during which he raised a question that was to set a completely new direction for Kalaš in cycling. Toni asked Čestmír if he would be able to arrange the production of cycling clothing for his brand in Czechoslovakia. Toni was looking for cheaper labour in post-communist Central Europe. With no previous business experience and no knowledge of textile clothing production, Kalaš accepted the offer. This leap into the unknown offered a glimmer of hope for the future of the Tábor club, where he served as coach and chairman. This opportunity could deliver the financial means with which to provide support for his athletes. He was 47 years old.
"Without knowing what it all meant and how much work it would entail, I told Toni: Kein Problem! [No problem!.]"
Chapter 2

The Apprenticeship
With a completely new and unexpected business plan in mind, Kalaš returned to Tábor [in Autumn 1990], where he immediately started making the necessary steps to set up his own production for custom cycle wear. He sought out the largest clothing company in Tábor, where he hired his first seamstresses and began to absorb the basic sewing procedures. Every month he made a journey from Tabor to Lugano, where the company for which he was to make cycling jerseys and shorts was based. On his first visits, he spent several days at the factory so that Toni could thoroughly initiate him into production and show him how to sew properly and with quality. With a head full of knowledge and a van load of fabrics, he returned to Czechoslovakia where he had to hand-sublimate the different parts of the fabrics by screen printing and have them sewn together before taking them back to Switzerland.
Čestmír Kalaš made countless regular trips from Tábor to Lugano through the snow-covered Alps.
From the first orders, it was already evident that the quality of the clothes produced by Kalaš in Tábor was of a high standard, and so more and more orders came in. As the number of orders grew, so did the need for larger premises and more staff. The Tábor clothing company Otavan, from which Kalaš had initially had his first orders made, ran into financial difficulties and was forced to make large-scale redundancies. Several unemployed seamstresses appeared on the labour market and Kalaš immediately offered them jobs. He found a suitable building on the outskirts of Tábor to set up a new production facility and was thus able to accept further orders from Switzerland. Toni's wife also came to visit him in the new workshop to pass on her experience and to train the new seamstresses, who sewed according to the sample jerseys and shorts.
"She was a lovely lady of Greek origin who spoke several languages. When she came to the production, she took off her mink coat, sat down at the sewing machine and showed us how it is done. We all looked at each other approvingly and marvelled at her skills."
The beginnings were not at all easy. Apparent desperation over the flood of jersey orders forced Čestmír Kalaš to expand production immediately.
Since making custom-designed cycling apparel requires machines other than sewing ones, of which Kalas had only a few, he had to start looking. At the time, however, such machines were not easy to come by. In the early 1990s, several textile factories sprang up in the South Bohemian border region. This gave them considerable competition with the Upper Austrian workshops, several of which soon went bankrupt. A Yugoslavian speculator bought up all the machines from the bankrupt Upper Austrian factories and offered them for sale in his barn. Toni Maier found out about this and together with his new subcontractor from Czechoslovakia went to inspect them.
Toni pointed out several basic machines that would be needed in Tabor for the thorough processing of custom cycle wear. However, Kalas had to invest in the machines himself out of his own pocket. In cash. He spent all his family savings, which at that time amounted to 70,000 CZK, to start his business. That was only enough to get started. Later, he had to invest another CZK 400,000 which he borrowed from the bank.
"I took out a loan for CZK 400 000 and had to guarantee it with our family house. My wife, of course, went crazy. She told me that I had no experience, that I would go bankrupt and that we would become homeless. It was a big commitment and I had to give my best."
New machines were not easy to get into the building. So, a wall had to be knocked down, the machines moved inside, and the wall rebuilt.
Of course, the business demanded a lot of time and it seemed almost superhuman that Čestmír Kalaš was able to combine his position as a national coach, trainer, and chairman of the Tábor club and take care of a start-up business in custom cycle wear.
"Of course, I couldn't be in so many positions. I remember one weekend we were at races in the Netherlands, I was running around the track all Sunday, then we drove all night to Czechoslovakia and were home by 3am. I slept for a few hours and went straight to the production. So, I gave up the position of national coach."
However, the orders from Switzerland continued to come in rapidly until they slowly began to exceed the time needed to make them, and Kalaš had to start looking for more seamstresses to expand his production. He managed to establish a new cooperation in Veselí nad Lužnicí (20km from Tábor). However, the cooperation did not last long.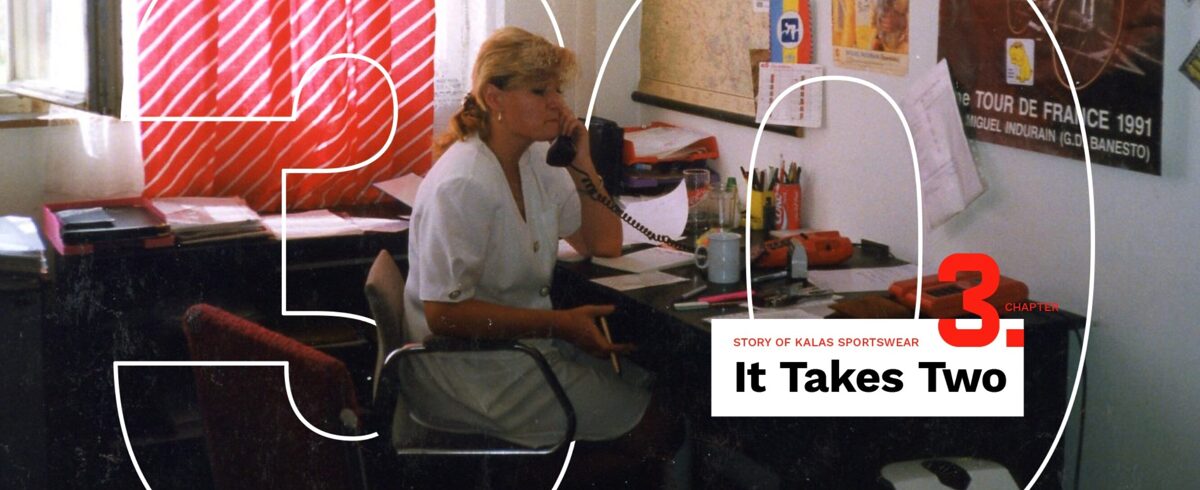 Chapter 3
It takes two
Kalaš expanded his production in Veselí nad Lužnicí (a town not far from Tábor) in the former Lidové družstvo Blata (People's Cooperative Blata), which manufactured knitted products for the army and police. It was a reliable cooperation from which both parties mutually benefited. However, over time it became clear that the production of custom designed cycle wear was much more complicated than it first seemed, and to maintain the quality of the products and ensure the smooth running of production, Kalaš decided to shift the production all under one roof in nearby Tábor. This meant he had to hire new employees and purchase additional machinery.
"I was very grateful for the help I received at the Lidové družstvo Blata at that time. Although all the logistics between Tábor and Veselí nad Lužnicí were sometimes complicated, I am glad that they helped us out with the production at that time."
One of the first seamstresses who was at the birth of the expanding Tábor cycle wear workshop.
As orders increased, so did the frequency of regular trips across the Czech border. When Kalaš took the finished clothes to Switzerland, he had to go through customs on every trip. As it is the case with successful people, those who are blessed with unique qualities (in Čestmír Kalas' case, diligence, and tenacity), usually they have weaknesses in other areas.
"I've always been rather sloppy with paperwork. A lady from customs told me one day during an inspection: 'Mr. Kalaš, get your papers together or you'll end up being arrested!' I replied: 'Would you like to work for me?'"
Since the customs office was downsizing, Petra Filipová accepted Kalaš' offer. She had no idea, however, that she would not just be in charge of checking the documents needed to export clothes abroad. As the production prospered, she gradually started to do the bookkeeping, order processing, and even organizing the production. On days when the seamstresses were under time pressure to hit deadlines, she also sat down at the sewing machine to make sure that the promised orders could be finished in time.
"After a few years, when I realised how important she was to the whole running of the production, I offered her a share in the company, and to this day she is one of the important and leading figures in the company."
Petra Filipová, whom Kalaš offered a job at customs control, held several positions in the emerging company. She took care of accounting, order processing, production organisation and recruitment of new employees.
The Tábor workshop was thus managed equally by two people of different natures who complemented each other in the business and thus ensured its smooth running. Petra Filipová formed an important counterbalance to Kalaš' sometimes unrealistic visions and steered him back to earth.
Orders from Switzerland to produce the Swiss brand were normally very regular, but even so, there came a period when the Tábor workshop had nothing to sew. The uncertainty caused Kalaš and Filipová to fear this could be the end. With several employees to pay and little work coming in, the business was at risk. They needed to find additional opportunities, so agreed with Toni Maier that they would start selling cycling clothes in Czechoslovakia under his Swiss brand. Thanks to Kalaš' extensive connections in the world of Czechoslovak cycling, he quickly saturated the demand for custom clothing and was able to secure the extra work for his employees.
"Word quickly got out that we were making quality custom clothing in Tábor, so there was no shortage of new orders from domestic customers."
In the days before the internet, orders were sent by post or handled by telephone.
Customers had to rely on their own artistic skills and imagination to convey their idea for production.
Before Kalas even started making cycle wear, the clothing for the Czechoslovak national team was already supplied by the Swiss brand (for which the Tábor coach later set up a workshop in Tábor). At the beginning of the 1990's, the national team was growing, which increased the demand for more clothing. The then secretary of the union, engineer Houba, picked up the phone to arrange more clothes for the Czechoslovak national team in Switzerland.
"The sponsorship at that time was handled by Toni's wife, who, after hearing the request for more kit uttered the historic sentence: 'Monsieur Ýba, genug!' (Mr Ýba, enough!). And with that she ended the sponsorship from Switzerland and decided that the Czechoslovak national team would receive clothing from Kalaš at our expense."
The moment Kalaš could sell cycling clothing domestically, all the equipment for the national team began to be made entirely in Tábor. (PHOTO: Archive of Luboš Lom)
To be continued...